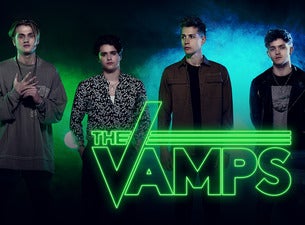 Alternative and Indie
The Vamps Tickets
The Vamps Tickets and Concert Dates
Biography
The Vamps are a four-piece pop rock band made up of Brad Simpson, James McVey, Connor Ball and Tristan Evans. In 2013, they released their debut single, Can We Dance?, which climbed to No.2 on the UK singles charts. Their debut album, Meet The Vamps, came out in 2014. Not only did it soar up the charts, but it also spawned four Top 4 singles: Can We Dance, Wild Heart, Last Night and Somebody to You.
The Vamps released their second album, Wake Up, in late 2015.
With a new album due out in 2017, The Vamps have also announced a UK tour beginning in April.
Last updated: November, 2016