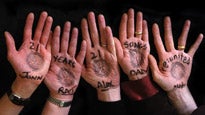 Alternative and Indie
Ned's Atomic Dustbin Tickets
Ned's Atomic Dustbin Tickets and Concert Dates
Biography
The Wonder Stuff and Ned's Atomic Dustbin have announced a double-headline tour of the UK.
The bands will play 12 dates across the UK in March and April next year under the Love From Stourbridge 2018 banner.
They'll be joined on the road by Pop Will Eat Itself's Graham Crabb, who'll perform a guest DJ set each night.
Both bands rose to prominence in the late 80s and early 90s, with Ned's Atomic Dustbinfinding success with God Fodder in 1990 and the singles Kill Your Television and Happy.
Last updated: September, 2017