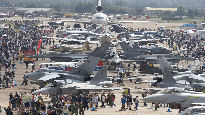 RAF Fairford

Tickets

Gloucestershire

,

GL7 4EG

,

GB

Get Ticket Alerts

RAF Fairford Tickets and Event Dates
Venue Details
Parking
Cars approach RAF Fairford on one of 3 colour coded sign-posted routes. Cars are parked in the appropriate colour-coded car park. Coaches are parked in a dedicated coach car park.

Parking: Free.

There is designated disabled car park on hardstanding for Blue Badge holders. Parking spaces must be booked in advance (by 1st July) as a special permit needs to be issued.
To book Disabled parking please telephone the Air Tattoo Ticketline on 0800 107 1940.

Disabled visitors arriving by car and displaying a Blue Badge but who have not pre-booked an on base parking space will be directed to the front of each public car park where possible. This is where a designated car parking space should be available – but it could be some distance from each pedestrian entry point and on grass.


Public Transportation
Nearest Rail: Swindon

Shuttle buses: Shuttle buses run between Swindon Bus Station and the RIAT Showground at RAF Fairford.

Swindon Bus Station
===================
First bus: 7.15am

RAF Fairford
============
Last bus: 7.30pm


Box Office Numbers
0800 107 1940 – Air Tattoo Ticketline (Mon-Fri 9am - 5pm)

The Royal International Air Tattoo is an Advance Ticket Only Event. No tickets will be available to purchase at the gate.



Accessible Seating
The Disability Enclosure is for the use of registered disabled visitors and must be booked in advance as places are limited. This Enclosure is managed by a WRVS Support Team and has crowd line position and accessible disabled toilets. The Air Tattoo also provides a number of motorised scooters and wheelchairs which are available to registered disabled persons and must be booked in advance at a cost of £15 per day.

To book any of the above facilities please telephone the Air Tattoo Ticketline on 0800 107 1940.



General Rules
The following items may not under any circumstance be brought onto the Showground: explosive substances or materials, pyrotechnics, offensive weapons and firearms (including replica or toy firearms), projectiles and similar devices; placards, flags, banners, signs, brochures and leaflets intended for distribution to the public; megaphones, amplifiers, loud speakers, lights and laser pointers; paint, chemicals, spray cans and other associated apparatus; bicycles, barbecues, birds or animals (including any within vehicles in the car parks) except guide dogs and any other item which, in the opinion of the Organisers, may cause personal injury or property damage, disruption to RIAT 2011, public nuisance or inconvenience, offence or distress or security risks.

For the safety and security of all visitors to RIAT 2011, there will be security measures in place at RAF Fairford entry points and throughout the showground. These measures are well practised and are designed to provide the minimum amount of disruption possible.



Children Rules
There is no minimum age of admittance. Children under 16 go free and do not require a ticket, when accompanied by a paying adult.


Miscellaneous
Catering
Food villages are conveniently positioned around the showground. Each Food Village has a bar, ice cream stall and a selection of traditional and ethnic food.

Exhibitions & Trade Fair
================
As well as numerous exhibition areas with interesting displays and features, many of them interactive, there are also three large shopping malls selling and promoting a wide range of products and services from aviation merchandise and clothes to craft products and handmade goods.

Local Accommodation & Campsites
========================
There is no camping or accommodation on-site. Please contact the local Tourist Information Centre or CentrePoint:

Cirencester 01285 654180
Swindon 01793 466545
Cheltenham 01242 522878
Gloucester 01452 396572
CentrePoint 01793 435588

This is an outdoor event and can be noisy, Visitors are advised to bring appropriate clothing.

Additional Services:

Ticketmaster are only selling admission tickets.

The following facilities can be purchased through the Air Tattoo Ticketline on 0800 107 1940 between 9am and 5pm Monday to Friday and at www.airtattoo.com

Jubilee Garden
Grassed enclosure on the crowdline with deckchairs with private toilets, catering and a pay-bar. Air Tattoo admission ticket also required.

Public Grandstand
Centrally located grandstand with reserved seating, private toilets, catering and a pay-bar. Air Tattoo admission ticket also required.

Pimm's Flight Deck
Public enclosure at the eastern end of the runway, Comfortable surroundings, reserved director chair seating and all picnic style inclusive lunch. Air Tattoo admission ticket also required.

Park & View
Park and view the amazing aircraft arrive and rehearse from Wednesday 13 to Friday 15 July and watch them take off for home on Monday 18 July.

Aviation Club
Marquee with grandstand and garden overlooking the runway. Price includes Air Tattoo admission, morning coffee, lunch and afternoon tea.



<! fixed bug 75664 -->