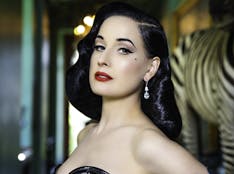 27 & 28 April 2021 / Olympia Theatre, Dublin
Dita Von Teese
Events
International Events
14 Events
Loaded 18 out of 18 events
About
The ever-dazzling International Queen of Burlesque, Dita Von Teese presents the most lavish touring burlesque show in history with her all-new revue, DITA VON TEESE: GLAMONATRIX
The Glamonatrix burlesque revue takes audiences on a stunning visual journey with one show-stopping performance after another. The uber-glamorous variety show presents extravagant new production numbers from Dita and the cast, with costumes created by famed corset maker Mister Pearl, British designer Jenny Packham, French couturier Alexis Mabille, burlesque icon Catherine D'Lish, Brooke Brothers and more. Shoe aficionados will delight in the extraordinary bespoke footwear by Christian Louboutin.
The Glamonatrix show is a full evening of comedy and sophisticated striptease that celebrates diverse beauty. Far from being a typical burlesque show, Dita elevates and modernizes the classic 1940's variety show, with both male and female forms glorified in a body-positive way that inspires and uplifts.
Always ahead of the curve, Dita's casting has consistently been inclusive, diverse, and multi-faceted, showcasing the talents of male, female, and gender-fluid performers from around the world to create a body-positive, celebratory show like no other.
As the consummate performer in modern burlesque, Von Teese's exhilarating live shows are world-renowned and draw fans from every corner of the globe. With over a million tickets sold, and an unprecedented quality of production in burlesque, it is clear why Von Teese's self-produced tours are the gold standard of the modern burlesque revival, with devoted fans that include A-list celebrities.
Dita Von Teese – Taking audiences on a journey into fantasy and spectacle, Dita is renowned for her ornate sets and dazzling haute- couture performance costumes adorned with hundreds of thousands of Swarovski crystals. This "Burlesque Superheroine" (Vanity Fair) determines every aspect of her burlesque shows from the sets and costumes, to the music and lighting. She has also been celebrated for her distinct sense of style and remains on top of "Best Dressed" lists internationally. Beyond her live performances, Dita has curated her brand across multiple platforms including her own lingerie line, fragrances, eyewear, gloves and stockings. In addition, Von Teese is the New York Times Best-Selling author of her highly accredited beauty book, "Your Beauty Mark: The Ultimate Guide to Eccentric Glamour."