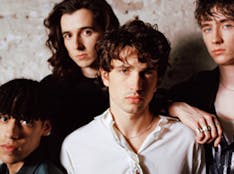 About
Inhaler's debut album 'It Won't Always Be Like This' which will be released on July 16th on Polydor Records. The album features new single 'Cheer Up Baby', which premiered as Annie Mac's Hottest Record In The World on 17th March. 'It Won't Always Be Like This' is a record that sees Elijah Hewson (vocals and guitar), Josh Jenkinson (guitar), Robert Keating (bass) and Ryan McMahon (drums) turn their early promise into something special, an album teeming with expansive indie-rock grooves and soaring anthems "We really had the opportunity to explore our sound." Says Hewson.
Inhaler formed whilst still at school in Dublin, bonding over a love of Joy Division, The Stone Roses, Kings Of Leon, The Strokes, Interpol, The Cure and more. A string of captivating singles and their fevered live show have earned them a diehard fanbase – on their last tour, they sold over 10,000 tickets and played to sold-out crowds across Europe. Their tracks have been streamed over 50 million times globally. The band were originally meant to begin recording 'It Won't Always Be Like This' last March but their plans were derailed by lockdown. Instead of moping, they used the period as a time to rethink and reimagine what their debut album could be. 
"We explored all the different territories that were there to be discovered," says McMahon. "It really put things in perspective for us," adds Hewson. "We were on a bit of a crazy train, thinking 'what's next? What's tomorrow?', not seeing the bigger picture." By the time they entered Narcissus Studios in London with producer Antony Genn in summer 2020, they had honed their vision, writing five new songs in the process. Inhaler have used lockdown to create something uplifting. Whilst the world has been on pause, the quartet have gone up a level.
FAQS
Tue 14 Dec - Belfast, Limelight 1

Wed 15 Dec - Limerick, Dolan's Warehouse

Thu 16 Dec - Cork, Cyprus Avenue

Fri 17 Dec - Killarney, INEC Acoustic Club

Sun 19 Dec - Dublin, Academy  

Mon 20 Dec - Dublin, The Academy

Tue 21 Dec - Dublin, The Academy