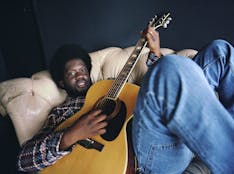 Events
International Events
13 Events
Loaded 14 out of 14 events
About
Hyundai 2020 Mercury Prize Winner
With Michael Kiwanuka, it's all about the voice. A voice that he describes as "hitting straight through to the core" with direct, emotional songs about love, yearning, comfort and belonging. It's a voice that built him a following via MySpace and small London gigs, and led Paul Butler from The Bees to invite him to the band's Isle of Wight studio to lay down some introductory tracks. Which makes it all the more strange, really, that what Kiwanuka originally set out to be was a session guitarist who maybe wrote the odd song for other people.
The young British musician's debut album was 2012's Home Again, which he followed up with 2016's acclaimed Love & Hate. His third studio album, simply titled Kiwanuka, came out in November 2019.
In September 2020 Michael Kiwanuka won the Hyundai Mercury Prize for his third studio album Kiwanuka. It is a nod to a suite of arresting, ambitious soul songs that – while they deftly recall the funkified epics of artists as varied as Gil Scot-Heron, Fela Kuti, Bobby Womack and Kendrick Lamar – cement the singular, supremely confident sound that made 2016's Love & Hate such an undeniable step up.
Michael Kiwanuka has announced he's returning to the road and appearing at The Summer Sessions at Trinity College Dublin in 2021.
FAQS
Michael Kiwanuka will play the Summer Series at Trinity College Dublin on 28 June 2021.

Yes! Tickets are on sale now for Michael Kiwanuka at Trinity College Dublin on 28 June 2021.

Yes! Brittany Howard (Alabama Shakes) has been confirmed as special guest at Michael's up-coming Dublin date at Trinity College Dublin on 28 June 2021.