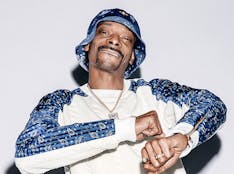 Rap and Hip-Hop
Snoop Dogg
Events
International Events
5 Events
About
West Coast rap legend Snoop Dogg has come a long way since being discovered by Dr. Dre in the early 1990. As impressive as he was when guesting on Dre's The Chronic in 1992, few could have guessed he'd go on to global fame, tens of millions of record sales, and a career in movies and TV. And that's only part of the story, from battles with the law to reinvention as a reggae artist.
Snoop's first album, the Dre-produced Doggystyle (1993), climbed its way to the No. 1 spot on Billboard's hip-hop and Top 200 charts, based in part on the success of the singles "Who Am I (What's My Name)?" and "Gin and Juice."
Next came a short film called Murder Was the Case, the soundtrack of which went double platinum. Snoop's next album, Tha Doggfather (1996), also reached the top of the charts, despite the absence of Dre, who had left Death Row over a contract dispute. Snoop then left Death Row himself, falling out with label mogul Suge Knight and moving to Master P's No Limit Records. He scored the top slot on the hip-hop charts with his next two albums: Da Game Is to Be Sold, Not to Be Told (1998) and No Limit Top Dogg (1999). His last album for No Limit, The Last Meal, came in 2000 and sold over 2 million copies. By now his sound had become less "gangsta rap" and somewhat smoother.
He is held in high esteem and affection by hip-hop fans worldwide, and is one of the most recognisable faces and voices of the whole genre, even to those who don't listen to his music. He has the distinction for having the most Grammy nominations of any music artist— 17 to date — without having won one. But as Snoop Dogg shows few signs of retiring, don't write him off just yet.
FAQS
Yes. The 'I Wanna Thank Me' arena tour shows have been rescheduled to 2022. The new dates are 09 March in Dublin & 12 March in Belfast. A new Kerry date has also been added to the tour.

Gleneagle INEC Arena, Co.Kerry.