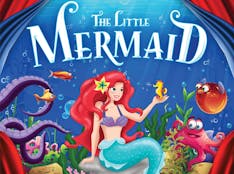 Pantomime
The Little Mermaid
Events
Loaded 20 out of 77 events
About
THE PANTOMIME EXTRAVAGANZA RETURNS THIS YEAR FROM 28 NOVEMBER 2021 - 9 JANUARY 2022
Take an enchanting journey under the sea as 'The Little Mermaid' is this year's Gaiety Panto! A pantomime extravaganza with singing, dancing and laugh out loud oceanic adventures, The Gaiety Theatre is set to be transformed into a stunning kingdom under the sea from 28 November 2021 until 9 January 2022.  It's an extra special year for the Gaiety Panto too as the Gaiety Theatre is celebrating her 150th anniversary this year. Having opened her doors for the very first time on the 27th of November 1871, the official birthday for the Gaiety Theatre coincides with this year's Gaiety Panto.
Join us at the Gaiety Panto's 'The Little Mermaid' as we follow Ariel on her adventures as she dreams of escaping the sea and exploring the world above! Expect plenty of twists, turns and hilarious high jinks as Ariel tries to escape the scheming evil witch Ursula who tries to take over the kingdom, steal her voice and stop true love! Dive right in - you'll have a swimmingly good time! 
This is no ordinary panto, it's the Gaiety Panto!